Foundation First Training
Dogs talk, but only to those who listen. Here at Valor K9 Academy, we believe successful dog training is based on communication, motivation and relationship. We focus on foundation training first, teaching dogs using primarily positive reinforcement methods to build their confidence. Once dogs understand commands and know what's expected, we add a training collar, as needed, so that training is reliable anytime, any place – at home, in public and around distractions. Our training creates a strong bond between owner and dog for a lifetime of happiness. Ready, set…train!
About
Our Virtual Training program is back by popular demand! This program gives you access to Valor K9 Academy trainers for top notch training 100% online. No matter where you live, we can help you train your dog! So far we've worked with clients from Finland, France, India, Australia, Canada, Mexico and all over the United States. Lessons are completely customizable and topics include puppy training, crate training, potty training, basic commands like sit, down, stay and come, place training, remote collar training, treadmill training, confidence building and more. Lessons are done via Facebook video, FaceTime or Skype for real-time instructions and feedback. Wherever you live, if you need help training your dog, we can help!
Benefits
* Complimentary consultations
* Full trainer support
* Customized lesson plans
* Written & hands-on instruction
* Flexible training times
* Suitable for all ages & breeds
* Family-friendly
* Competitive rates
Giving Back
Since our start in 2014, Valor has donated $41,395.00 in training and monetary donations to animal rescue groups, shelters, schools, veterans and non-profit organizations in our local communities.
Endorsed By:
Tucker Budzyn and dog owners everywhere!
In Virtual Training, you can talk with a Valor K9 Academy Certified Trainer one-on-one about any specific issues at hand and receive step-by-step instructions for training solutions tailored to your training needs. Virtual training is effective for dogs of all ages and is especially helpful for puppy owners who want help raising their puppy the right way!
Topics covered include: puppy raising, engagement training, walking on a loose leash, place training, treadmill training, FitPAWS, confidence building, sit/stay, down/stay, recall foundation training and more.
Topics not covered include: rehabilitation training for severe cases of aggression, fear and reactivity. Rehabilitation training is best done in person at one of our training facilities.
Virtual training starts with a Pre-Training Questionnaire and is followed by a complimentary 15-minute Phone Consultation. The Trainer will review your questionnaire and discuss your training goals with you. From there, you can select the training package that best fits your budget and needs, and then lessons will be scheduled! All lessons are stored in Square Appointments, so you'll receive reminders and never miss a lesson.
Lessons are one hour each and cost $125 for 1, $350 for 3 and $500 for 5. Lessons can be done via phone, email, Skype, FaceTime or Facebook Video.
Your Valor K9 Academy – Online trainers are: Jenna Larson (primary), Dana O'Lone Long (secondary) and Amy Pishner (tertiary).
Don't put off improving your relationship with your dog. Email Trainer Jenna Larson today: jenna@valork9academy.com. Let her know you're interested in Virtual Training, and she'll get the ball rolling for you! 
Mentor Program
Our new Mentor Program gives current and aspiring dog trainers access to Valor K9 Academy Co-owner and Head Trainer, Amy Pishner. Whether you need help with business management, client relations, training or training programs, whatever your need, this program lets you reach out and get the advice you're looking for. Amy has several years' experience and has worked with thousands of dogs and their owners. She has also trained and certified eight trainers in her exclusive 12-week trainer course and has worked with 22 shadow students in her six day shadow program.Coaching is completely confidential, if you wish, and can be done via phone call, email, FaceTime or Facebook Video. Pricing is $190 for 60 minutes or $250 for 90 minutes. Available hours are: Monday through Thursday 10AM-4PM MST only. Please contact Amy Pishner via email to find out more: info@valork9academy.com. Currently booking two weeks out. Space is limited.Mentor Program topics include:
Private Lessons
Group Classes
Board & Trains
Confidence Building
Core Training Skills
Behavior Rehabilitation
Puppy Training
Obedience
Remote Collar
Business Management
Human Relations
Accounting
Social Media
and More!
Amy founded Valor K9 Academy in 2014 and is the Co-owner and Head Trainer. She oversees operations, runs the trainer course and shadow programs, and provides mentorship for the team. Before training dogs, Amy served in the U.S. Air Force where she was worked in Intelligence Operations while stationed at Seymour Johnson AFB in NC. Prior to that, she was an English as a Second Language teacher stateside and overseas. Amy is triple-certified through The Michael Ellis School, Starmark Academy and Vohne Liche Kennels. She holds bachelor degrees in International Political Economy and Spanish from Carthage College in WI. In her spare time, she enjoys yoga, Jiu Jitsu and hiking in the beautiful Pacific Northwest. Amy and her husband, Justin, live in Horseshoe Bend, ID, with their three dogs: Zoey (8) an Australian Shepherd/Border Collie, Havok (5) a German Shepherd and Yedi (4) an Australian Shepherd.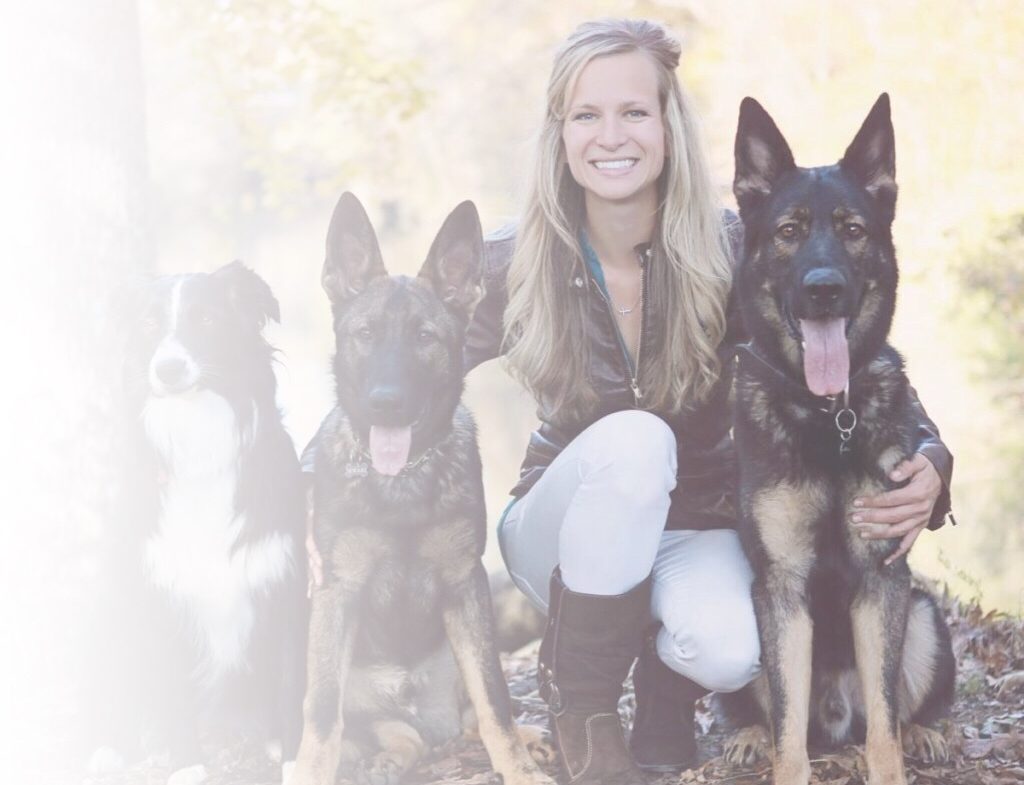 Dana O'Lone Long is the Lead Trainer for Valor K9 Academy – Chattanooga. She was the first student to enroll in our Trainer Course and joined our team as a professional dog trainer in September 2015. Dana offers puppy and obedience training and is our go-to behavior rehabilitation specialist for difficult dogs. She is a true miracle worker! Prior to training, Dana spent 15 years as a veterinary technician and was Department Head of both neurology/behavior and internal medicine at RIVER pet emergency hospital in Chattanooga. Dana is an incredible dog trainer and a great person. She enjoys cooking, traveling, running and family. Dana lives in Chattanooga, TN, with her husband, Nick, and their three dogs: Charlie (5) a German Shepherd, Yedi (3) a Belgian Malinois and Isadora (11) an Italian Greyhound.
Jenna Larson is a Trainer at Valor K9 Academy – Spokane. We met Jenna in September 2018 when she attended our second Shadow Program. At just 19 years of age, she made her mark as a confident, passionate and potentially top notch young trainer. Jenna had worked for two other trainers prior to attending our program, but didn't agree with their training methods. We posted a job opening in December 2018 and, after having seen our balanced and fair training in action, Jenna jumped at the opportunity. Four months later, in April 2019, she graduated our trainer course and was hired on as a full-time trainer. Her specialties are puppy training and on and off leash obedience. All of her clients rave about her! Originally from Battle Ground, Washington, Jenna now lives next to the academy in Medical Lake, Washington. She has an associates degree and enjoys hiking, camping and working out. Jenna has a one-year-old Heeler mix rescue named Toby.
[distance type="5″][distance type="5″][distance type="5″][distance type="5″][distance type="5″]