[distance type="4″][distance type="4″]
[distance type="4″]
[distance type="2″][webnus-divider type="9″ lspan="Our Classes"][distance type="2″][distance type="2″]
Valor K9 Academy offers a wide variety of group classes for dogs of all ages. Group class training is a great way to train your dog around people, dogs and other distractions. We keep our classes small for your comfort and to maximize learning. To participate, dogs must be friendly with adults, kids and other dogs.
[distance type="2″]
Drop-in Puppy Class
You want to give your puppy the best possible start in life, and in training! We're here to help. Our Puppy Class is designed to give puppies a great learning experience and enjoyable social time together. Far from your standard puppy class, Valor's Puppy Class delivers obedience training with confidence building, environmental exposure and socialization. Each session covers 2-3 basic commands or a new socialization topic, Q&A and play time!
Our classes are offered on a weekly drop-in basis, so there's no longterm commitment on your end. Come when you can! Start training your puppy right away!
Who:
all puppies 10-24 weeks of age*
*must be friendly with other puppies
all breeds & sizes
When: Mondays 6pm year-round (except federal holidays)
Check-in opens at 5:30pm. Class runs 6:00-7:00pm.
New clients, please arrive NLT 5:45pm to get registered and checked-in.
Location: VK9-Spokane indoor/outdoor training facility
Bring: lots of treats, a treat pouch or container with lid for treats, harness if you have one and leash; and proof of vaccinations (paper copy or on your phone). We require that all puppies attending class receive at least their first set of vaccinations seven days prior to class.
Well-behaved kids and family members are welcome to attend.
Price: $30 for one drop-in session or $150 for six sessions. Come anytime to use your sessions. You do not need to pay in advance, payment is due the first day of class.
Send us an email letting us know you're coming or just show up for class. Contact Valor Spokane Lead Trainer Courtney Sims with any question: 509-901-0532 (phone) or courtney@valork9academy.com (email). We look forward to meeting you!
[distance type="2″]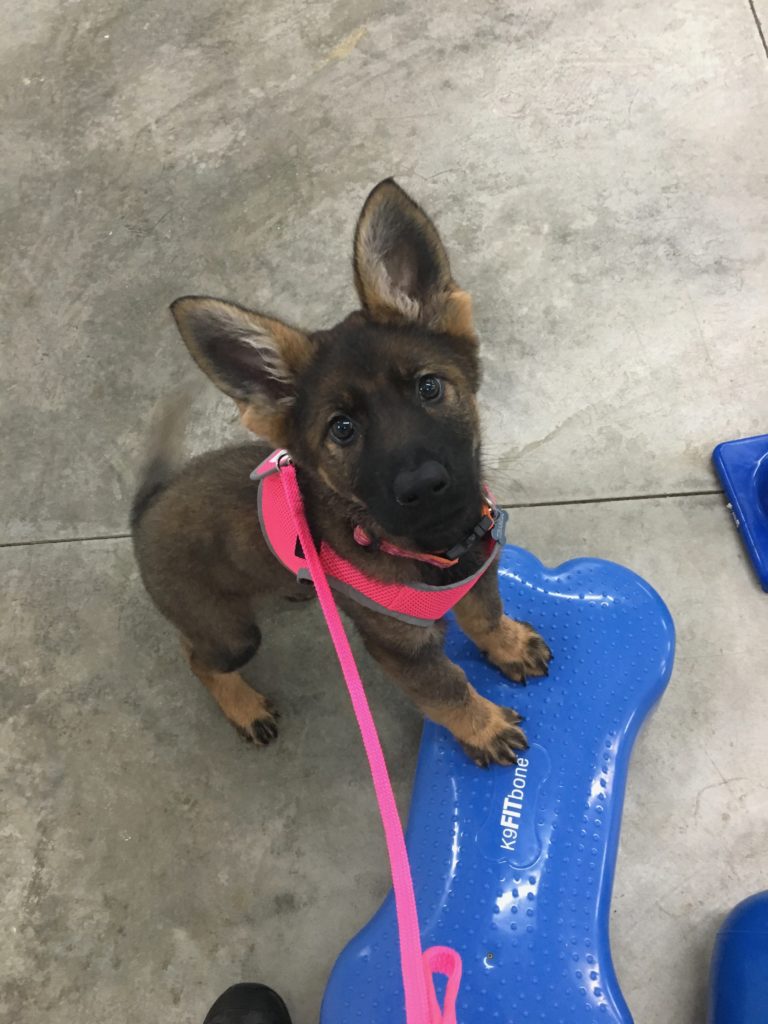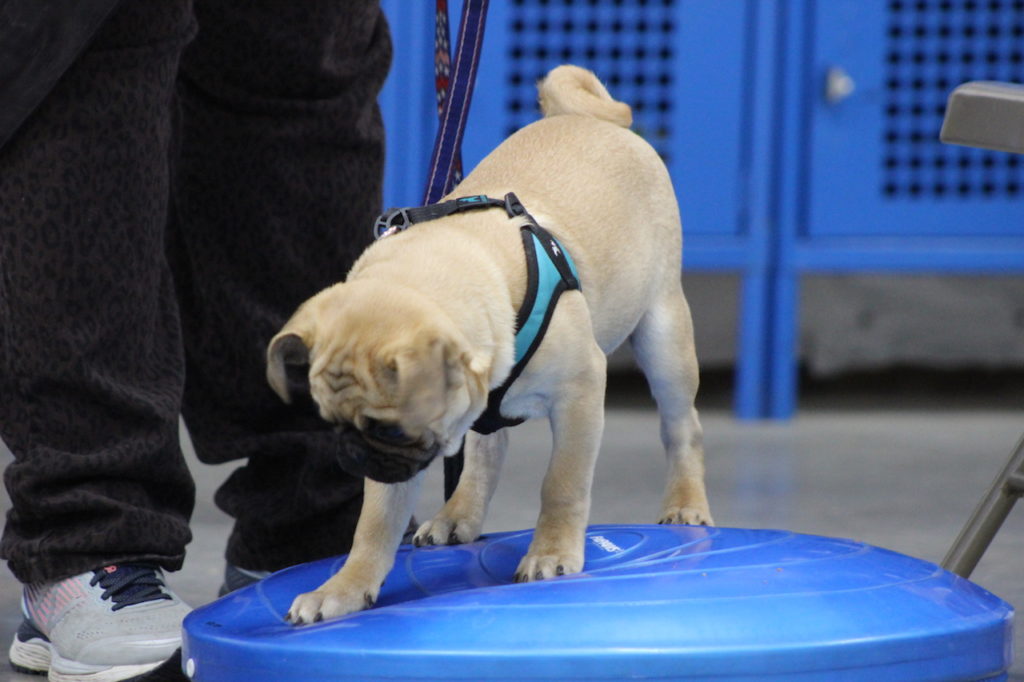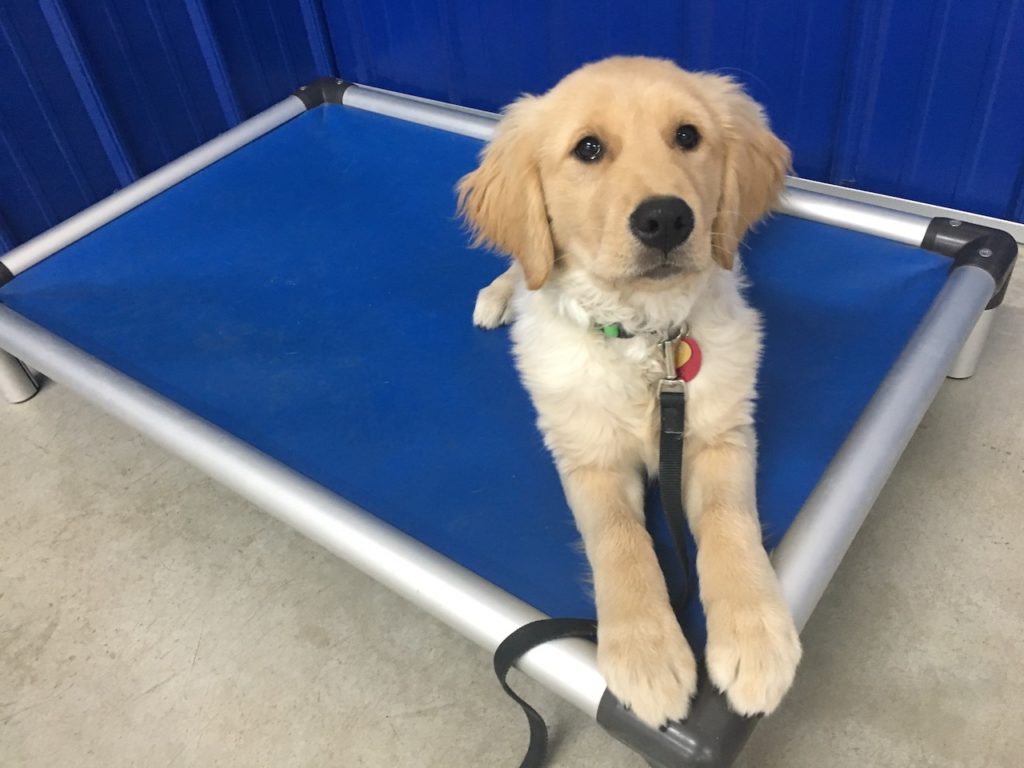 [distance type="2″]
Basic Obedience
Valor K9 Academy's Basic Obedience is the perfect beginner's course for start-up success – for dogs six months of age and older! You will learn reward-based training for basic commands and manners foundation training. Then you will learn how to properly use a training collar to train your dog so your dog's obedience is reliable even around distractions like people and other dogs!
Basic commands include: name recognition, sit/stay, down/stay, loose leash heel, come when called, place bed training, manners and leave it. Our Basic Obedience is just the class for YOU! This class covers all the tools and know-how to succeed in basic training and beyond! We will share our secret formula, so you can tackle common behavior issues with confidence and think like a trainer. 
Who: dogs 6+ months of age; to attend, dogs must be friendly towards people and other dogs of all sizes
Class size: 8 dogs
Length: 1 hr class meeting once weekly for 8 wks
Location: VK9-Spokane indoor training facility
Cost: $100 deposit then $197 due first day of class
Current classes:
May 2nd – June 6th 2019; Thursdays 6-7:20pm (FULL)
May 4th – June 29th 2019 (no class May 25th); Saturdays 9-10am (FULL)
Now Enrolling: 
June 4th -July 30th 2019 (no class July 2nd); Tuesdays 6-7pm (1 Spot Available)
Don't see a class that works for you? Please email courtney@valork9academy.com to be put on our wait list and notified when new classes are announced.  
[distance type="2″]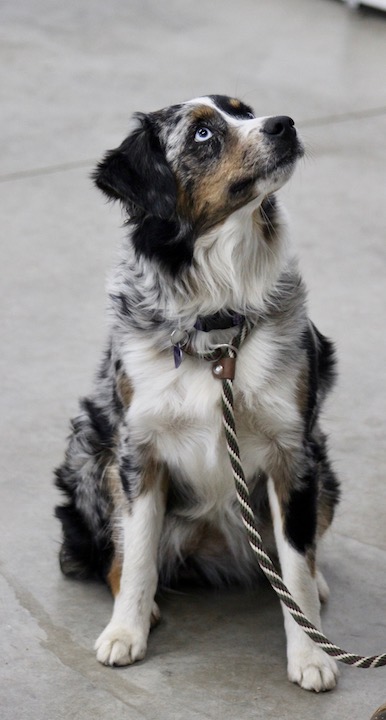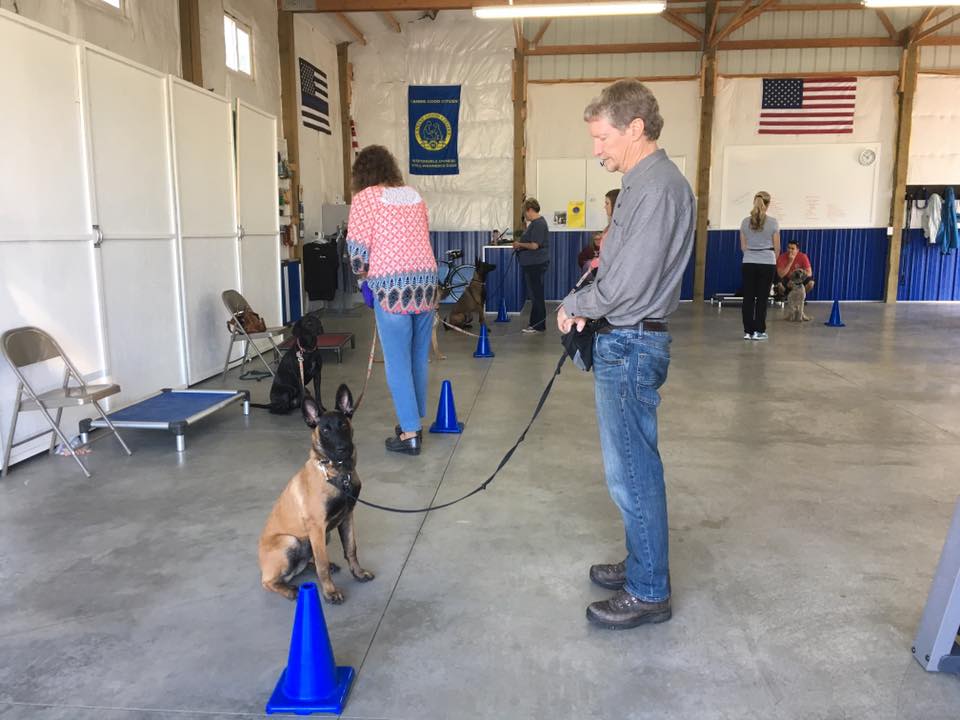 [distance type="2″]
Intermediate Obedience
This class takes your dog's training to the next level – for dogs nine months of age and older! It includes the AKC Canine Good Citizen test, two field trips and a comprehensive end-of-class examination. Our goal is to take what you learned in Basic Obedience and expand upon it with more duration, distance and distractions training while challenging you to be a better trainer for your dog!
Who: VK9 Basic Obedience graduates only
Location: VK9-Spokane plus field trips to North 40 and Cabela's
Cost: $100 deposit and $197 due first day of class
Current classes:
April 2nd – May 21st 2019; Tuesdays 6-7pm (FULL)
April 5th – May 24th 2019; Fridays 6-7pm (FULL)
Now Enrolling: 
June 13th – August 8th 2019 (No Class July 4th); Thursdays 6-7pm (Full)
Please email us to be put on our wait list. You'll be notified first when new classes are announced!
[distance type="2″]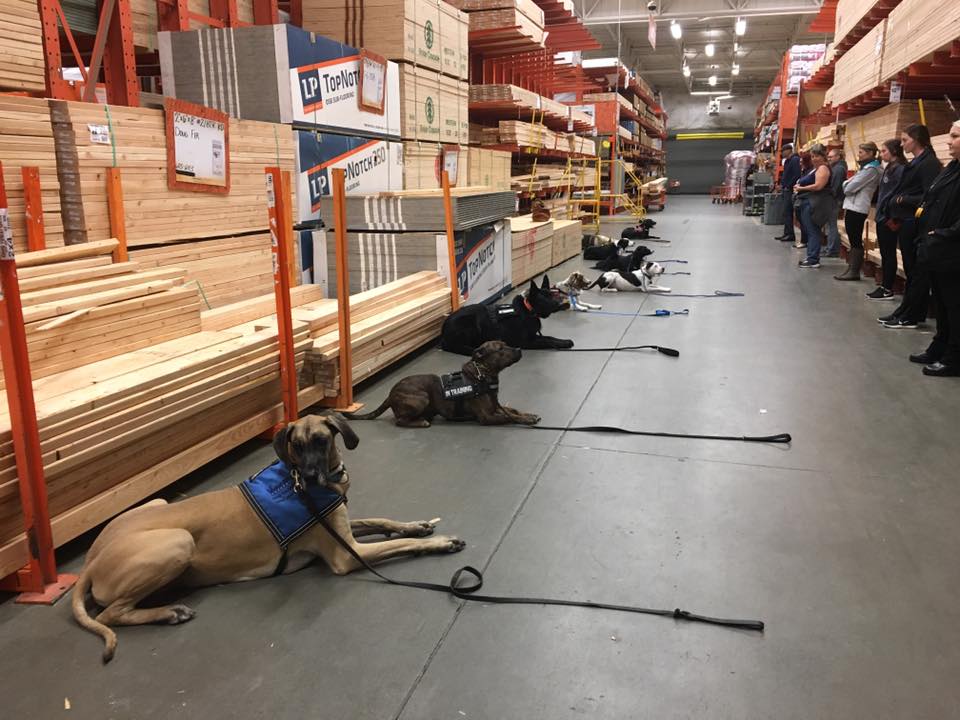 [distance type="2″]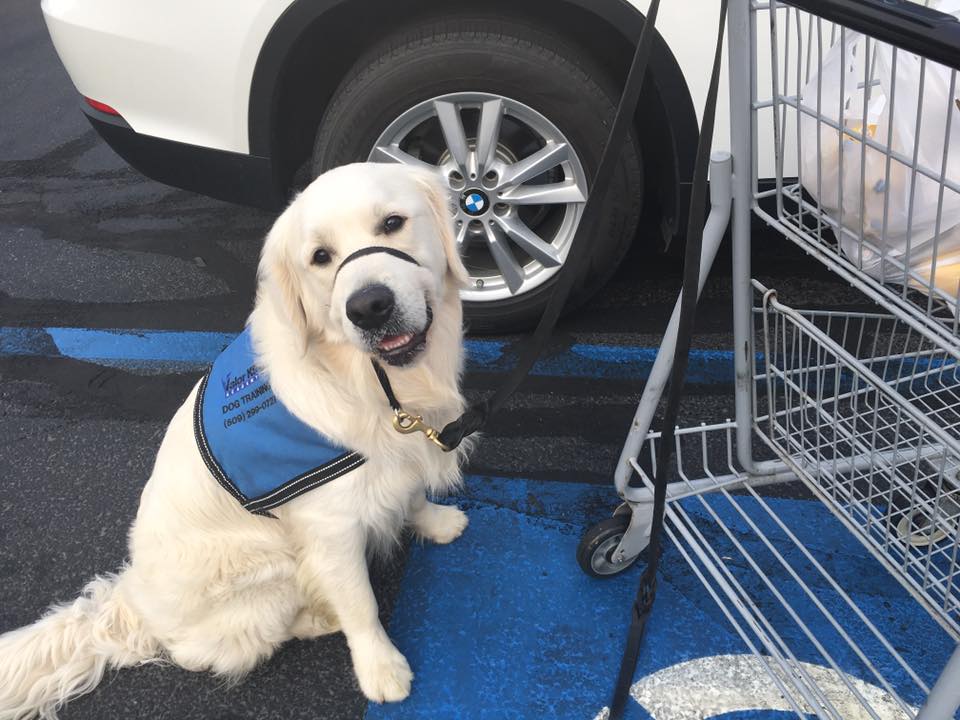 [distance type="2″][maxtitle maxtitle_content="What our clients say about group classes!"][testimonial_slider][testimonial_item name="Katie Trembecky" testimonial_content="We have a very energetic boxer puppy who just graduated Basic Obedience class. My husband and I are amazed at the amount of progress he made in such a short time. At Valor Courtney and Amy are knowledgable and confident. They will make sure you are successful. They provide the training, rules and guidelines and you do the work at home. Practice and consistency. We love Valor and plan on doing the Intermediate Obedience class."][testimonial_item name="Dana Silvrants" testimonial_content="AMY IS AWESOME! I can't thank her enough for the knowledge she has shared with us over the past year. I am so thankful we found a trainer who presents herself as well as her business extremely well. We walk away from each training session a little more confident and a little more knowledgeable! Amy is extremely passionate about what she does, and it shows 100% through the training she has done with her trainers and her business!! We can't thank you enough, Valor K9, for helping us create obedient dogs. "][testimonial_item name="Melissa Kossuth" testimonial_content="We have a very energetic boxer puppy who just graduated Basic Obedience class. My husband and I are amazed at the amount of progress he made in such a short time. At Valor Courtney and Amy are knowledgable and confident. They will make sure you are successful. They provide the training, rules and guidelines and you do the work at home. Practice and consistency. We love Valor and plan on doing the Intermediate Obedience class."][testimonial_item name="Jacara Fike" img="" testimonial_content="I love the thorough training and support offered through the Basic Obedience Class, both in class and outside class time. The techniques are balanced and effective, and I saw an awesome transformation over such a short amount of time practicing what Amy taught. I love that Valor K9 emphasizes the working relationship with your dog based off of mutual trust and respect. "][testimonial_item name="Kevin Trimpe" testimonial_content="My 7 year old dog greatly benefitted from going to Basic Obedience. It sharpened the skills she had and she learned several more skills that she wasn't doing well or at all. I enjoyed the group sessions as I got to see how other dogs were learning too. Amy and Courtney are amazing trainers for both dogs and humans. Wish I had takes this course years ago!"][testimonial_item name="Julia Hall" testimonial_content="We HIGHLY recommend Valor K9 Academy. Amy is absolutely fantastic! She is extremely knowledgeable and up to date with the best and most current training techniques. We, especially, appreciated her honest feedback every step of the way. Our pooch had the greatest time, too! We are so excited to continue our training with Valor K9!!! Thank you, Amy!"][testimonial_item name="Bonnie Smith" testimonial_content="Anyone looking for a place to train your dog and yourself, this is the place to go. Amy goes above and beyond to help to make the class successful."][testimonial_item name="Matt Cameron" testimonial_content="Amy rocks! We make the trip all the way from the Valley to Valor K9, she is that good."][testimonial_item name="Heidi Swartz" testimonial_content="So knowledgeable and helpful! Amy and the other trainers know how to run a class but take a moment for some extra help if needed. This place rocks!"][testimonial_item name="Kelli Jones" testimonial_content="Amy and Courtney are wonderful to work with. They truly care about the dogs and by extension their owners. We look forward to every session and can't imagine training a GSD puppy without them!"][/testimonial_slider][maxtitle maxtitle_content="Watch our training in action!"][distance type="2″]