Foundation First Training
Dogs talk, but only to those who listen. Here at Valor K9 Academy, we believe successful dog training is based on communication, motivation and relationship. We focus on foundation training first, teaching dogs using primarily positive reinforcement methods to build their confidence. Once dogs understand commands and know what's expected, we add a training collar, as needed, so that training is reliable anytime, any place – at home, in public and around distractions. Our training creates a strong bond between owner and dog for a lifetime of happiness. Ready, set…train!
About
Valor K9 Academy Chattanooga was founded in April 2014 and is our oldest location. What started as a small, apartment-run business has since grown to become a national company with clients around the world. Our Nooga location offers private lessons, board & train programs and stay & play boarding. Our training specialties include puppy training, on/off leash obedience and behavior rehabilitation for reactive, aggressive and fearful dogs. Space is limited so don't wait. Enroll your dog today!
Endorsed By
Nooga Paws, CHAI (Chattanooga Holistic Animal Institute), East Brainerd Animal Hospital, Shallowford Animal Hospital, Play.Wash.Pint, VCSG, Animal Medical Professionals, Red Bank Animal Hospital, Mountain Hospital for Animals, North Shore Pet Wellness Center, Hixson Pet Wellness Center, Riverview Animal Hospital, Fort Oglethorpe Pet Wellness Center and more
Benefits
* Complimentary consultations
* Veteran-owned
* Unlimited trainer support
* Fully licensed and insured
* Customized training methods
* Private in-home training
* Family-friendly
* Small personalized programs
* Competitive rates
Giving Back
Since our start in 2014, Valor has donated over $45,000.00 in training and monetary donations to animal rescue groups, shelters, schools, military veterans and non-profit organizations in our local communities.
Whether you prefer private dog training sessions for the individual attention, the convenience of training around your busy schedule, or because you want to tackle specific training issues in a private setting, we're here to help you.
Each private lesson is designed to meet your individual goals. We'll spend the hour focusing on what you want to teach your dog and what problems you want solved. We'll then give you a personalized homework plan that works for you and your dog.
Lessons last one hour and can be held at your home, at the trainer's home  or in a public location. We service the entire greater Chattanooga area.
Our training rates: four lessons $600, six lessons $750, eight lessons $900. There is a small travel fee for in-home lessons.
Don't put off improving your relationship with your dog. Contact us today to make an appointment or to schedule a free private consultation with the trainer!
We book all lessons through Square Appointments so you get notified and reminded in advance about lessons. Accepted payment types: credit/debit (with card fee), Venmo (to Valor-K9-Academy) and checks payable to Valor K9 Academy; we do not accept cash payments.
Valor K9 Academy's board & train programs are designed to offer expert dog training for all your needs. From puppy training to basic and advanced off leash obedience, our customized programs get amazing results! Skip the stressful kennel atmosphere, in our program your dog lives with the trainer and receives 1-2 hours of training per day plus exercise, socialization and basic care.
Puppy Head Start

Allow a professional trainer to jumpstart your puppy's training the right way. This program focuses on housebreaking, crate training, socialization, basic commands and manners. We give your puppy a solid foundation for future training. Your puppy will learn to love learning and be ready for success as a confident, well-socialized family companion! Private lessons with your puppy's trainer are included plus an in-home graduation lesson for local clients. For puppies under six months of age.
People
Places
Sights
Sounds
Surfaces
Animals
Field Trips
Introduction to Obedience and Manners:
Sit, Down, Stay, Heel, Come
Place, Crate, Wait, Leave it
No jumping, No play biting/mouthing
Calm in crate
Walking on treadmill
Clicker and marker training
FitPAWS
$2300 for 2 weeks
$3000 for 3 weeks
$3700 for 4 weeks
Note: Prices do not include food or training equipment.
Contact Lead Trainer Dana O'Lone Long for more information: dana@valork9academy.com.
Good Dog Board & Train
Our Good Dog Board & Train program is a comprehensive training program for on/off leash obedience and manners training. Your dog lives with the trainer and is professionally trained with methods tailored to suit each individual dog. We start with foundation training to teach basic commands, then we add a training collar to make sure obedience is reliable at home and in public. We take your dog on field trips to proof training around distractions. We offer two options for this program: The Good Dog Board & Train (3 weeks long) and The Good Dog ADVANCED Board & Train (4 weeks long). This program is for friendly dogs six months of age and older. 
Basic Commands:
Focus, Sit, Down, Stay, Heel
Remote Collar Recall:
Come When Called Off Leash
Home Manners:
No Jumping, Counter Surfing, Mouthing etc.
Place Bed Training
Crate Manners
Treadmill Training
FitPAWS
Field Trips
Private Training with Owners:
4 Hours including In-Home Graduation Lesson
Good Dog ADVANCED Board & Train
Everything in the Good Dog Program PLUS:
100% off leash remote collar obedience
Three tricks of your choice
Additional field trips
2 more hours of private lesson training
$3300 for 3 weeks
$4300 for 4 weeks
Note: Prices do not include food or training equipment.
Contact Lead Trainer Dana O'Lone Long for more information: dana@valork9academy.com.
Behavior Rehabilitation Board & Train
This program is designed for dogs with behavior issues such as people aggression, dog aggression, fear issues, leash reactivity, separation anxiety and resource guarding. We start with foundation training to build your dog's skill set and instill trust, respect & confidence, then we systematically address the dog's presenting behavior symptoms working towards a behavior rehabilitation solution. We do not use punishment-based, shock-and-awe training. Our methods focus on foundation work to address behavior issues in a fair and humane way. The program also covers basic obedience commands, treadmill training, FitPAWS training and agility. It includes a custom training manual and private lessons with your dog's lead trainer. For dogs of all ages.
$4497 for four weeks
Note: Price does not include food or training equipment.
Custom Board & Train
This program is designed for dogs with specific training goals such as service dog training, therapy dog training, fitness and weight loss, confidence building, tune-ups and more. We find out what your exact goals are and create a custom training plan for your dog. This program is especially popular for graduates who would benefit from refresher training, and is a great option for owners going on vacation who need a place for their dog to stay! Program includes a custom training manual and private lessons for the owner. For dogs of all ages.
$1000-1200 per week depending on the type of training requested

Note: Price does not include food or training equipment.

Contact Lead Trainer Dana O'Lone Long for more information: dana@valork9academy.com.
Click here to see our Board & Train FAQ blog post!
From the weekend visit to the multi-week stay, we provide dogs with an exciting and enriching experience!
During their stay, our Stay & Play guests get to play with dog friends, go on long walks, take naps and work with our trainers to achieve the goals on your training wish list. They stay at our team members' homes, conveniently located in Chattanooga and Signal Mountain, because we believe that a home setting, supervised by our professional staff, is the best setting for dogs versus a kennel environment.
This program is open to current and former training clients. We keep our program small. On average, our staff members house 1-2 dogs at a time.
To request a reservation, please email dana@valork9academy.com.
$50 per night for the first dog (2 night minimum)
$40 per night for additional dogs
Note: We ask for a 50% deposit for any reservations of 5 nights or more. Deposit is refundable if you need to cancel or reschedule and we're able to fill your spot with another reservation. Please be on time for your drop-off and pick-up appointments.
Optional add-ons
training ($45 per 30 min)

bath ($25)

nail trim ($15)
Dana O'Lone Long is the Lead Trainer for Valor K9 Academy – Chattanooga. She was the first student to enroll in our trainer course and joined our team as a professional dog trainer in September 2015. Dana offers puppy and obedience training and is our go-to behavior rehabilitation specialist for difficult dogs. She is truly a miracle worker! Prior to training, Dana spent 15 years as a veterinary technician and was department head of both neurology/behavior and internal medicine at a pet emergency hospital in Chattanooga. Dana is an incredible dog trainer and a great person. She enjoys cooking, traveling, running and family. Dana lives in Chattanooga, TN, with her husband, Nick, and their dogs: Charlie, a German Shepherd and Yedi, a Belgian Malinois.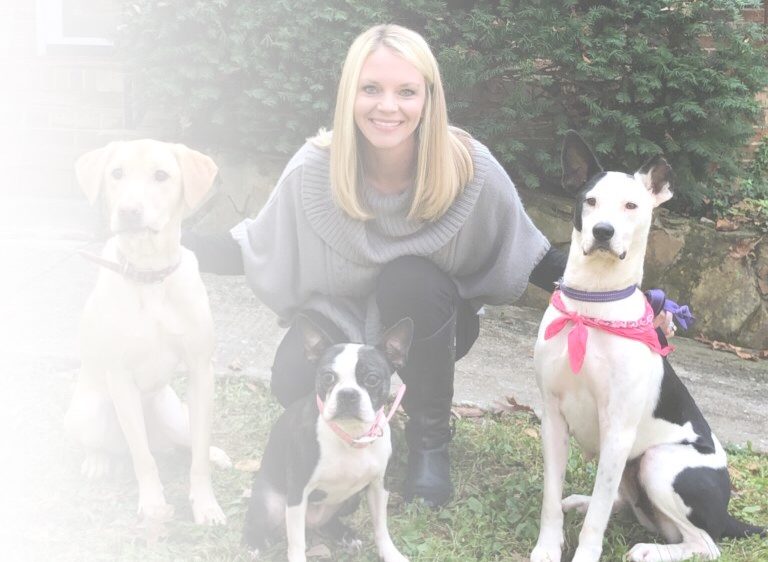 Meg Rogers is a Trainer with Valor K9 Academy- Chattanooga. We first met Meg in 2014 when she enrolled her dog in our board & train program. Since then she has been a loyal client and in 2018 she joined our team as a Stay & Play Host. We quickly came to appreciate her passion for dogs and invited her to attend our Trainer Course. After nine months of hard work, Meg graduated our trainer course and has been busy ever since with clients. Her specialties are puppy training and on/off leash obedience for private lessons and board & trains. We are so happy to have such an energetic and caring person on our team. Meg and her husband, Matt, a police officer, have two children and three dogs. They live in Signal Mountain, TN. In her spare time, Meg enjoys running, spending time at the lake and being with family.